[ad_1]

Writer and illustrator Angela Staehling found her artistic inspiration with us this past April aboard Heart of the Danube: Bavaria to Budapest – and chronicled her journey in a series of illustrations, perfectly capturing the essence of the river cruise in her art! She shared her story with us in a recent interview:
Q & A with Angela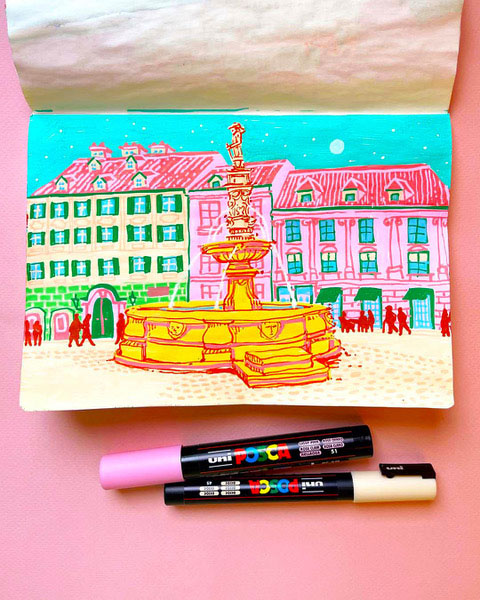 Q. It looks like this is your first time traveling with Tauck, how did you hear about us?
A. My husband is a travel agent and knows that Tauck has always been one of the leading brands in luxury travel. A Tauck river cruise has been on our bucket list for years, and hopefully this will be the first of many more Tauck trips to come.
Q. You have a playful, eye-catching, style of art – can you tell us how you describe it?
A. My art style has changed quite a bit over the years. I have been designing home décor and gift products for over 20 years and my style has evolved from ultra-realistic to a more fun, colorful representation. Today, I enjoy illustrating in a much looser style with bold, vivid colors. While a lot of my art has a consistent style, I do work in a variety of mediums and other styles. I also work with several clients on project-based art and my styles will change to meet their needs.
Q. Why did you pick to travel with us on The Heart of the Danube river cruise?
A. With so many tour choices in Europe, we decided to start with one of the staples, that being The Heart of the Danube. While Munich, Vienna, and Budapest are a few of our favorite cities, we never had a chance to explore some of the smaller towns along the river. We knew that Tauck's numerous excursion options and tour guide connections would let us embrace the region in a more intimate way.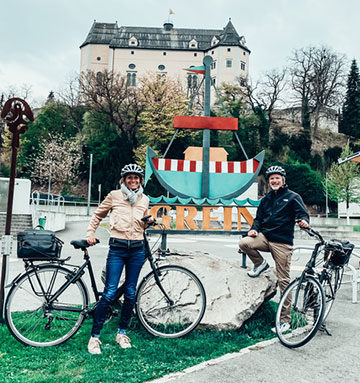 Q. You were clearly inspired by what you saw cruising along the Danube, can you tell us a bit about the feelings you had and what motivated you to sit down and create WHILE you were traveling?
A. I thoroughly enjoyed our Danube cruise as there were so many picturesque towns and pastoral landscapes from which to gather inspiration. The relaxing pace of the trip allowed me to carve out time to illustrate while enjoying the views. Many times, I would go for a walk and explore the little villages with our tour group, or even alone, taking many pictures along the way. I would even go for a bike ride with one of the on-board bikes to soak in as much of the countryside as possible along our many stops. While I wasn't expecting to get as much illustration done while traveling as I did, I was happy to squeeze in a few renderings while on board. Of course, I took many photos to use as reference for future illustrations while I'm at home.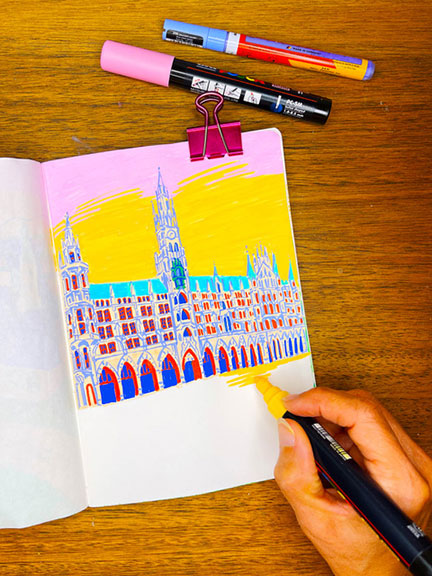 Q. We noticed you were using a special kind of pen for your river cruise work, is that your usual medium, and if you have more, what's your favorite?
A. I purchased a variety of paint markers from Blick Art Materials before our trip. I usually work with liquid acrylic paints back home, but knew that liquid paints would be hard to travel with. I wanted to find an art medium that would be easier to tote around, yet have the same opaque style that I am used to working in. I purchased a variety of marker colors and sizes from Posca and Molotow brands and was quite pleased with the similarity in appearance to actual paints.
Q. Do you often take your work on the road with you and create while you travel?
A. I do try and take a sketchbook with me whenever I travel. However, it is not always easy to find the time to illustrate while traveling. The best times for me to illustrate while traveling are usually when I'm commuting, such as on a plane, train, or boat, in this case. If we have downtime at a hotel, or other accommodation, I will try to illustrate a location from our travels.
Q. Where will you travel next?
A. We have a family trip this summer to Iceland, Copenhagen, and Sweden. We are traveling with another family and are hoping to visit other friends who live in the area.
Q. Have you always been an artist? Or is this something that came to you later in life?
A. I have always loved illustrating ever since I was a child. I got my degree in Graphic Design from the University of Illinois and worked in several advertising agencies out of college. After about five years working as an art director, I shifted my career to painting murals in peoples' homes and businesses. I also created commissioned artwork and would sell original paintings in local retailers. Soon afterwards, I discovered the world of art licensing, in which I would create designs and license my artwork to home decor manufacturers. These manufacturers create products such as dinnerware, stationery, wall art, and textiles, and sell to retailers around the world. I continue to work with these manufacturers today to license my art on such home decor products. Likewise, I create and sell some of my own products through my website and Etsy Shop.
Q. You have just written and illustrated a book "How to Pet a Cat" is that your first? Tell us about that process.
A. "How to Pet a Cat" is my second book. My first book is called, "Happy Houseplants". I have a love for cats, plants, and of course, travel. So writing and illustrating a book about these subjects is a dream come true for me! It only seems fitting that I work on some travel books soon – that is my wish! The process of writing and illustrating a book is truly a work of art in itself. There is a lot of time and research that goes into the writing, as well as creating the art. I was fortunate to collaborate with one of the leading publishers of best-selling gift and art books, Chronicle Books. My How to Pet a Cat book is now available through most online and brick and mortar stores, including Barnes & Noble, Target, and Amazon.
Q. How can people see and find out more about your art?
A. You can view my work on my website, AngelaStaehling.com and Etsy Shop; please don't hesitate to reach out through my website here, or my email at: angela@angelastaehling.com
Angela can also be found on Instagram and Facebook



[ad_2]