[ad_1]

The death of Queen Elizabeth II brought the British Monarchy into the spotlight again, and as always, exposed the broad gulf between those who like the monarchy and those who either object to it, or just don't get it. Before I traveled to England, I was firmly in the latter camp.
I was thinking about this curious chasm over the weekend when I saw a front-page story about it in the New York Times.
"In London, Mourning for the Queen Exposes a Generational Divide," said the headline. It quoted Gertrude Dudley, who at age 78 remembers sitting on her grandfather's shoulders when Elizabeth II was coronated in 1953.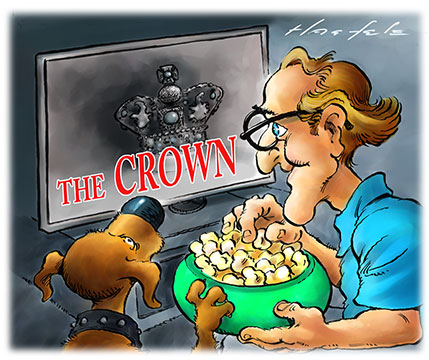 "This country is in such terrible state," said Ms. Dudley, "she was the one stability. Now she, too, has gone."
Then the article turned to the 29-year old Chrissy Mash, who gave a diametrically opposed view. "I'm surprised by how little I am affected," she said. "The monarchy doesn't serve any purpose, and if it does it's superseded by colonialism. I don't buy into the fanfare anymore."
Has the world changed that much during that 70-year reign? Probably, but some things change and some stay the same. Apparently enough people still believe in the monarchy to support it, because there it is.
For Americans the baseline of appreciation is lower. I guess that for most Americans who have not traveled to England, the monarchy is something they just don't get.
I was in that category. I grew up in Middle America. Our country was founded on a revolt against the monarchy. It's at the core of this country's existence, what people fought and died for. American culture has grown out of the original founding documents, and the Declaration of Independence goes on and on about King George.
When it comes to the monarchy, as in so many other things, you can divide Americans into those who travel internationally and those who don't. In a sense, those are two different worlds.
Among those who travel, the monarchy is still a high point of interest. There's plenty of data to back that up. As a tourism attraction, the monarchy probably generates more money than it costs the country to maintain.
In America, news stories about the Royals are some of the most popular articles. A recent article about the wedding of Princess Eugenie, a minor royal, was the most viewed story in North America on the BBC News website.
The TV series The Crown has been hugely popular. By showing the Royals as actual people, with human problems, it has sparked even more interest.
Of all Americans, I should be one of those most likely to appreciate the monarchy because I grew up in a family that had come from England just before I was born. I was immersed in English culture in the household. But appreciation of the monarchy bypassed me.
When I finally made it to England, I was interested in many things – the Beatles, Shakespeare, the Battle of Britain, architecture, literature, the British Museum, etc. – but not the royal family. I never thought about it.
Then I had a strange experience. My girlfriend and I were exploring London. I was fascinated with everything, so I couldn't go wrong. Even walking into a random grocery store was a thrill. Every item on the shelves was a revelation, representing a different way to think about things.
We walked along the Thames and saw bullet craters in concrete left from World War II. Of course, we had to see Tower Bridge, the Tower of London, Big Ben, and the Palace of Westminster, things you see in photos of London that you just have to see for yourself.
As we were walking in front of the Palace of Westminster, my girlfriend couldn't find a garbage can, so she asked a passerby if she knew where she could dispose of her Coke can. The woman answered in her very courteous English manner, "Oh yes, you know they've moved the dustbins, love, because of bomb threats. The Queen is coming today to open Parliament."
We were at the edge of the street across from the palace, and suddenly there was the most ornate carriage I have ever seen. Its glittering designs and colors were almost blinding as it flashed by. And inside, through the window, we could see the Queen. She was waving her demure little backwards wave, sparkling with jewels and ornamentation, and the people around us were beside themselves, as if in some kind of rapture.
We were 15 feet from her as she rounded the corner, drawn by astonishingly powerful horses into the Palace of Westminster. It was a stirring experience.
Later we had pints with some Londoners. They were young and progressive, but they admitted to liking the Royal Family. They couldn't explain why.
Talking to people, we learned that many of them waited their whole lives for the kind of glimpse of the Queen that we stumbled into by dumb luck.
A bellman who is legendary in London told me of the time he had served the Queen in the line of duty. Whenever he referred to her, he inserted the entire title "Her Royal Majesty the Queen." And when he spoke those words, there was a slight dip of the chin, a gesture of deference to that personage, or to The Crown, which is greater than the individual person.
That evening, on a little black and white TV, we watched the Queen's speech to Parliament. As she spoke about "my government" and its plans for the coming session, everyone in Parliament stood in rapt attention. The Prime Minister was standing there like all the rest, in deference to the Queen. It was fascinating. Heavy indeed is the head that wears the Crown.
I thought back to watching the people as the Queen rode by. They were so thrilled to see their queen. It was out of my range of understanding, but I could see how much energy it generated among these people who considered her their sovereign.
In that atmosphere, it wasn't a rich and famous person who lives in opulent splendor off her subjects. Her very existence charged them. It gave them something tangible that I could observe. It was undeniable that her presence generated great energy and happiness in them. It gave me a little glimpse beyond my own cultural conditioning. I could sense for the first time something of what they were feeling. The Queen gave them something to believe in, something to unite them.
It was one of those great moments when a travel experience expands you into spaces you didn't even know exist. Two cultures, so outwardly similar in the range of world cultures, but here was one difference that opened a whole dimension that was previously invisible to me.
The monarchy is still not for me. But now I appreciate it. I don't scorn it. It works for Britain. The Queen is dead. God save the King.
Your humble reporter,
Colin Treadwell
[ad_2]

Source link